EXTEND All-You-Can Promo from Republika ng TM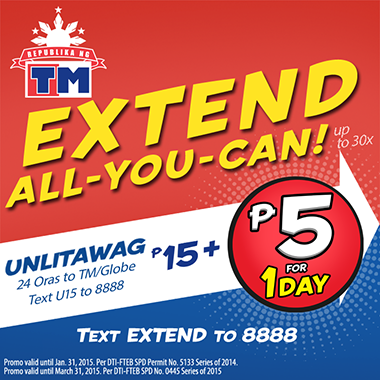 Who would not want to stay connected with their loved ones? Is a day of unlimited calls and text insufficient for you? Then it's a good news to all Ka-Republika! TM subscribers can now enjoy TM EXTEND All-You-Can Promo where you can get a day extension on your call and text subscription. You can avail this offer for only P5! No maintaining balance is required. So call and text your family and friends up to the next 24 hours.
Promo is simple and affordable. Here's how to register to TM EXTEND (All-You-Can) :
 Simply register in ANY TM Call and Text Promos then before the promo expires
 Text EXTEND to 8888.
 You can also register by Dialing *143# select the menu "Call and Text Promos" then choose "Extend".
Enjoy an extended 1 day validity of your favorite TM Call and Text Promo. You can avail this up to 30x continuously. To know the status of your subscription, just text the balance inquiry keyword of your existing promo to 8888. The additional 24 hours will take effect right after the expiration of your call and text promo.
TM EXTEND is not applicable to mobile data and is open to all TM subscribers only. Valid until March 31, 2015. Per DTI-FTEB SPD Permit No. 0445, Series of 2015.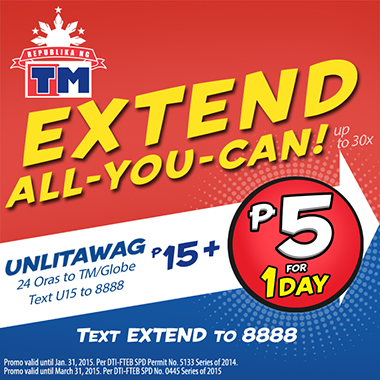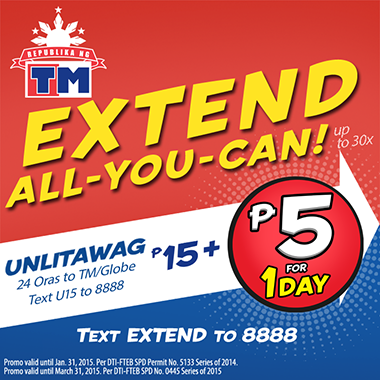 More promos and features for your mobile? Know how to maximize your load by visiting www.unlipromo.com for more updates on your mobile network. You can also check Republika ng TM and Unlipromo Official Facebook Page for newsfeed. Or subscribe to us for the latest offers.