Century City Mall Shopaholic Weekend Promo Mechanics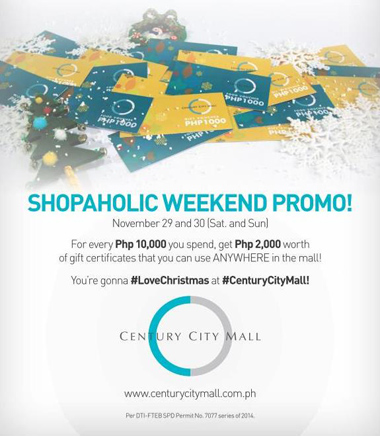 Special season is just around the corner! Come and shop in Century City Mall and enjoy the Shopaholic Weekend Promo, all you need to do is every Php 10,000 pesos you spend in single or accumulated receipts and Php 2000 worth of gift certificates. You spend the GC's anywhere in the mall. Shopaholic Weekend Promo will run from November 29 to 30, 2014. See mechanics below:
MECHANICS:
Gift certificates may only be used at Century City Mall Shops
All F&B gift certificates are usable in stores under the category of Food & Beverages (F&B) which include all dining establishments selling perishables
Non-food gift certificates are usable in all stores except those under the category of Food & Beverages (F&B). The supermarket falls under non-F&B
Gift certificates may not be used during the Shopaholic Weekend promo periods of Nov 29 & 30, 2014
Each gift certificate is valid for one (1) year or until November 30, 2015.
Gift certificates are transferable but cannot be converted to cash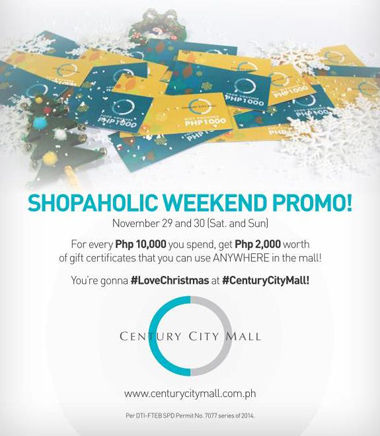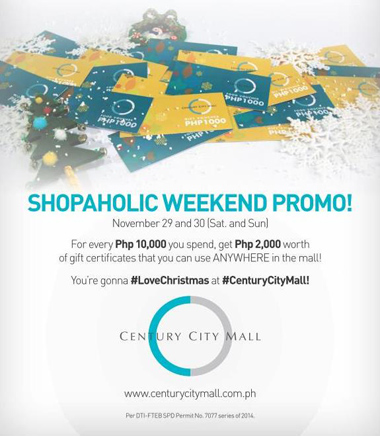 Per DTI-FTEB SPD Permit No. 7077 series of 2014.
Visit www.centurycitymall.com.ph for full promo details. You can also visit UnliPromo Facebook page for the latest promos and updates.